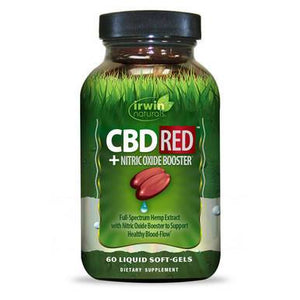 CBD RED +NITRIC OXIDE BOOSTER* supplement is designed to help you maximize physical performance in and out of the gym.* When it comes to physical performance and cardiovascular health, Nitric Oxide is key.*
Nitric Oxide is a naturally-occurring compound that is produced in the inner lining of blood vessels and helps to relax and dilate vessels, allowing blood to flow throughout the body.
This unique formula features L-Citrulline, an amino acid that is readily converted to L-Arginine, which can then be converted into Nitric Oxide within the body.
CBD RED +Nitric Oxide Booster also includes Beet Root Juice powder and Cayenne powder, traditionally used to support blood circulation, as well as Medium Chain Triglyceride (MCT) Oil, which delivers a quick boost of cellular energy.*
CBD RED +Nitric Oxide Booster can be taken an hour before engaging in any physical activity or can be taken daily for ongoing cardiovascular health maintenance.* Each serving contains 30 mg CBD
Each bottle contains 1800mg of CBD (30mg of CBD per Capsule)
Each bottle contains 60 Softgels
Lab Reports
60 Count - 30mg Lab Report