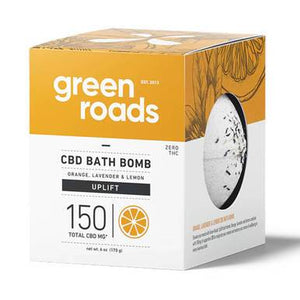 Create a spa retreat in your own bathtub with Green Roads CBD Uplift bath bomb. This nourishing blend of orange, lemon, lavender and 150mg of CBD, will soothe your soul and treat your body to a complete wellness experience. This combination of essential oils and hemp-derived cannabinoids creates awakening aromas and gentle foaming textures that will delight your senses.
150mg per Bomb
Awakening, citrusy aromas of orange and lemon balanced with calming lavender
Large bath bomb with 150mg of CBD to support your body & mind
Gentle, foamy textures
50% more CBD than our small bath bombs
Recommended Use: Unwrap your lucious bath bomb. Gently drop it into a tub of warm water fora soothing experience.
Ingredients: Sodium Bicarbonate, Citric Acid, Epsom Salt, Corn Starch, Water, Coconut Oil, Sodium Lauryl Sulfoacetate (SLSA), Kaolin Clay, Polysorbate 80, Citrus sinensis (orange) Oil, Hemp Dervived Cannabinoid Extract, Lavandula angustifolia (Lavender) Oil, Citrus limon (Lemon) Oil, Cornflower Petal.
Lab Reports
Single Bomb - 150mg Lab Report