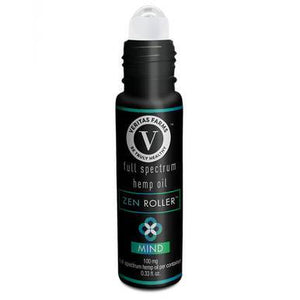 Mind Full Spectrum CBD Roll On
A soothing and calming blend of Full Spectrum Hemp Oil with Rosemary & Peppermint Essential Oils.
Your day-to-day Zen just got an upgrade! Meet the new Zen Roller.
Our Full Spectrum CBD roll on is a convenient companion for travel or on-the-go application, which comes in two scents:
Suggested Use: Apply sparingly to temples, neck, forehead and shoulders up to 3 times a day.
Ingredients: Organic SunflowerOil, Organic Peppermint Essential Oil, Organic Rosemary Essential Oil, Full Spectrum Hemp Oil (Aerial Parts).
CBD Type: Full Spectrum
CBD Origin: Colorado
Extraction Method: Cold Ethanol
Lab Reports
Veritas Farms - CBD Topical - Full Spectrum Mind Roll On - 100mg Lab Report