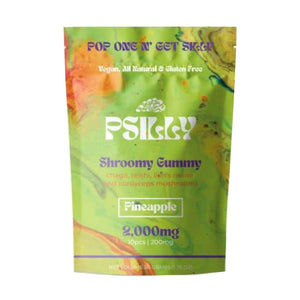 PINEAPPLE PSILLY SHROOMY GUMMIES
Psilly gummies contain some the best holistic ingredients for overall human health as stated by users. Urb decided to hand source ingredients such as KAVA KAVA, Chaga, Damian Leaf, Caffeine, Reishi mushrooms, Lion's mane mushrooms, and cordyceps for options that are sure to lift the mind, body, and spirit.
By now everyone has heard of magic mushrooms! Well, these do not contain psilocybin but the do contain Reishi mushrooms, Lion's mane mushrooms, Cordyceps, and Chaga. Mushrooms are known to provide a wide range of benefits such as increased energy, clarity, mental focus, gut and heart health, anti-aging, and much more. These gummies provide the perfect combo for micro dosing for large results.
10 Count Bag

200mg Per Piece

2000mg Per Bag

USA Sourced Ingredients
All Natural and Hand Selected
Suggested use is 1 gummy
Lab Reports
Urb Psilly Pineapple Gummies 10CT - 200MG Lab Report