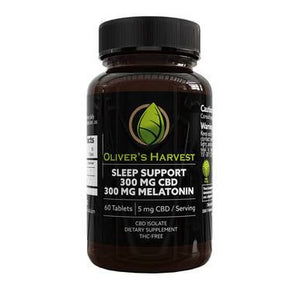 Do you have trouble falling asleep at night? Would you like to feel invigorated and well-rested every morning? It's time to try Sleep Support tablets for sleep. Oliver's Harvest CBD with melatonin tablets is precisely what you need to achieve this feat. Many people in America are sleep-deficient due to difficulties with falling asleep or staying asleep during the night. Our Sleep Support tablets combine 5mg of CBD with 5mg of melatonin to provide a relaxing and replenishing night's sleep with continued use.
Specs:
Designed to enhance your sleep/wake cycles.
CBD acts upon endocannabinoid receptors within your body to help promote longer sleep time, especially slow-wave sleep (SWS)
CBD Concentration :
5mg per Serving (60 Count per Bottle)
Ingredients: Cannabidiol (CBD) 5mg; melatonin 5mg.
Suggested Use :Take 1 (one) pill at night, 2 (two) hours before bedtime.
Lab Reports
Oliver's Harvest CBD - CBD Capsule - Sleep Support Tablets Lab Reports