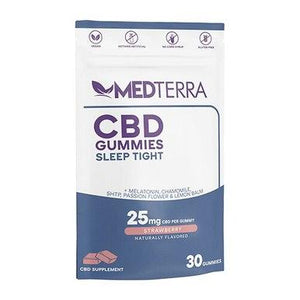 So long, caffeine jitters. Hello, crystal-clear thoughts. Take control of your mind's focus with Medterra's Stay Alert CBD Gummies. Going beyond traditional CBD gummies, Medterra's Stay Alert Gummy combines a powerful blend of natural ingredients like Green Tea and Gingko Biloba. Infused with 25mg of CBD, our Stay Alert Gummy elevates and sharpens your mind with a sense of clear focus. No more caffeine, no more jitters.
If you find it hard to maintain focus as the days seem to drag on, our Stay Alert CBD Gummies were made for you. Sometimes, all we need is a little extra push to get back on track and stay productive. Whether you're ditching your cup-of-joe for a healthy alternative, or simply want a boost to help stay focused and on the right track, natural ingredients like Green Tea and Guarana have been used for thousands of years to promote energy, focus and clarity in the mind.
25mg of CBD Isolate
Available in 30-Count and 5-Count Pouches
Suggested Use: Take one serving size (1 gummy) one hour before desired state of calmness.
Ingredients: Paullinia Cupana (Guarana), Camellia Sinensis (Green Tea), Ginkgo Biloba, Cannabidiol (Hemp Extract). Tapioca Syrup, Natural (Turbinado) Sugar, DI Water, Citrus Pectin, Natural Flavor and Color, Citric Acid, Malic Acid.
Lab Reports
30 Count Lab Report