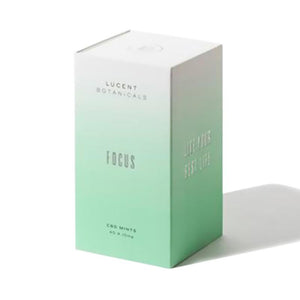 You're under a tight deadline for a big work project or want to really focus in on that new art project. These mints help activate your body's natural ability to focus without the crash that comes from caffeine or other energy pills and drinks.

Lucent's unique blend of CBD, organic terpenes and natural herbs is non-psychoactive and specifically targeted to activate your body's natural ability to focus.
All Lucent mints are carefully formulated at our in-house manufacturing facility to ensure quality. Our Cannabidiol Isolate is derived from industrial hemp grown in Colorado and is 99.5+% pure. Certified third-party laboratories test every batch to ensure that it is free from pesticides and heavy metals, and that the potency is accurate and consistent.
This product contains no THC.
Each mint contains 10mg of CBD
Lab Reports
Focus - CBD Mints by Lucent Botanicals Lab Report