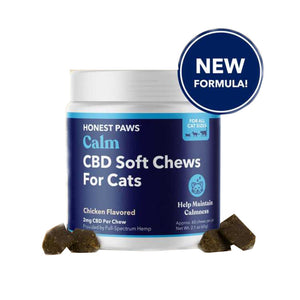 Calm CBD Soft Chews for Cats
2mg Per Cat Chew
Approx. 60 Chews Per Jar
Approx. 120mg Per Jar
This custom blend of relaxing ingredients is paired with a full-spectrum hemp oil and will help your cat with maintaining,  calmness, behavioral problem management & promoting a healthy brain function. This custom blend also contains
Silvervine: This climbing plant found in the mountainous regions of China and Japan. In addition to being used in traditional medicine, the fruit, leaves, buds, and stems of silvervine drive cats absolutely wild.

Passion Flower: Has a calming effect and helps ease the mind during bouts of separation or fear.

Chamomile Flower Powder: Studies in animals have shown that chamomile contains substances that act on the same parts of the brain and nervous system as anti-anxiety drugs do. The effect promotes relaxation and reduces stress.
Dosage & Directions for Use
Do not exceed the recommended amount of 1 chew for every 5lb. of body weight.
- 5 lb cat: 1 chew/day
- 10 lb cat: 2 chews/day
- 15 lb cat: 3 chews/day
Lab Reports
60 Count - 2mg Lab Report