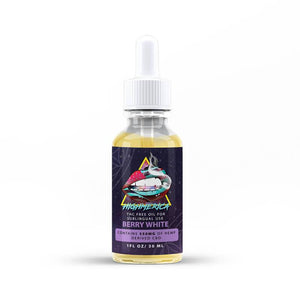 BERRY WHITE CBD TERPENES OIL
Terpenes are fundamental building blocks of nature. Every living thing produces terpenes to perform diverse biological functions. By infusing our all-natural CBD with terpenes also found in the hemp plant, we take advantage of the entourage effect, creating synergy between plant and human. The Berry White Terpenes formula includes the terpenes found in the Berry White strain of cannabis.
Our CBD Terpene Infused Tinctures are Vegan Certified Organic Medium Chain Triglyceride Oil from Coconut Oil, Broad Spectrum CBD Oil 550 mg, and Strain Specific Terpenes. Thats it!
Terpene Enhancing Effects:
Relaxed
Euphoric
Happy
Uplifted
Talkative
Good for:
Stress
Depression
Pain
Headaches
Insomnia
WHY 550mg? Our 550mg CBD tincture is the "just right" dosage. It provides a strong concentration, which many users favor.
WHY HIGHMERICA? – Our CBD tincture is the best you can buy. Our CBD tincture is a broad-spectrum CBD, which means the good parts of the cannabis plant aren't separated and diminished (as some companies do). It's also completely vegan and all natural. Our CBD tincture comes from plants grown organically at the top farms in the U.S, which means no harmful chemicals and no filler ingredients. And our CBD oil tincture comes in an Vegan Certified Organic MCT oil base that helps with the bio-availability of CBD through healthy fats.
ANY SIDE EFFECTS? This is perfect plant-based solution for what ails you, with no negative surprises, and that includes no psychoactive effects.
FACTS:
550mg per 30ml bottle
100% organically grown broad-spectrum CBD
No cheap or filler ingredients
cGMP-certified and made in the USA
Lab Reports
Highmerica - CBD Terpenes Oil - Berry White Lab Report