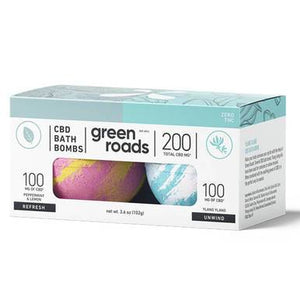 Transform your tub into a luxurious, relaxing spa with these CBD bath bombs from Green Roads. We've combined 100mg CBD with peppermint & lemon oils in our Refresh bath bomb and another 100mg CBD with enchanting ylang ylang oil in our Unwind bath bomb. Each will transport you away from the day's stresses with a multi-sensory experience that envelops your body and soothes your mind.
Key Facts
Envelop your body and ease your mind with this at-home spa experience
200mg (total) (100mg per Bomb) CBD for well-being in body & mind
Peppermint & lemon in our Refresh bomb for full-body refreshment
Ylang ylang tree oil in our Unwind bomb to seduce your senses
Perfect spa-style experience, right at home
Recommended Use
Unwrap your lucious bath bomb. Gently drop it onto a tub of warm water for a soothing experience. We suggest you use each individually, but hey it's your bath... do what makes you happy.
Lab Reports
Refresh Lab Report
Unwind Lab Report