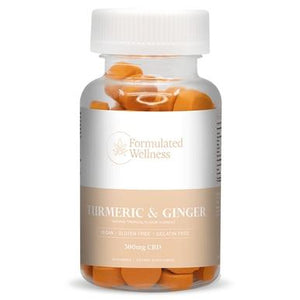 A CBD-INFUSED TROPICAL GUMMY INFUSED WITH TURMERIC AND GINGER!
Turmeric is rapidly gaining popularity as a supplement, and with its wide array of health benefits, it's easy to see why. Turmeric has anti-inflammatory properties, is rich in antioxidants, and may help prevent heart disease and Alzheimer's. Formulated Wellness has combined these benefits with the power of CBD in a tasty, tropical flavored gummy that will make taking your supplements fun and enjoyable!

Our CBD nutritional gummies are made with no artificial colors or preservatives, contain no nuts, soy, eggs, dairy, or gluten, and are certified Kosher and Halal. Additionally, all of our CBD is sourced from GMO-free, organic hemp oil harvested and extracted right here in the USA. Add a boost of CBD to your supplement regimen with Formulated Wellness nutritional gummies!
300 mg per Container, 5mg of CBD per Gummy, Orange Flavor Gummies
Ingredients: Cannabidiol, Water, Cane Sugar, Glucose Syrup (Corn Syrup), Citrus Pectin (E-440), Natural and Artificial Flavors, Citric Acid (E-330) and Sodium Citrate.
Lab Reports
5mg Lab Report