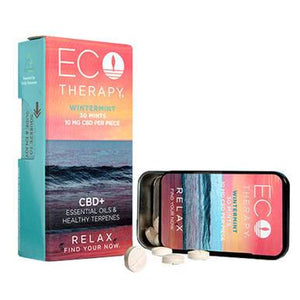 Mood : Relax
Flavor : Wintermint
Find Your Now. A calming blend of essential oils, cannabinoids and terpenes create a tranquil consistency throughout the course of your day.
Ingredients: Full-spectrum CBD oil, Chamomile, Ginger, Green Tea Extract, Bisabolol, Neral/Citral, Caryophyllene
CBD Concentration:
Each container has 30 mints with 10mg of CBD per mint. 300mg of CBD per Container.
Lab Reports
ECO Therapy CBD - CBD Edible - Relax Mints Lab Report