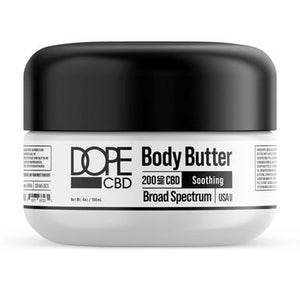 Dope Body Butter is the ultimate CBD product for both practical and leisurely use.
While it allows you to effectively absorb high-quality, broad spectrum CBD and experience its effects, the butter also contains supporting topical ingredients that provide a soothing sensation, making it perfect for using at all times of day, whether you're looking for a post-workout treat or a new way to end your night.
Containing 4oz of body butter and 200mg of broad spectrum CBD hemp extract, Dope has made it easier than ever to enjoy the layered functional benefits of CBD oil!
Broad Spectrum
Size : 4oz
200mg of CBD per Container
Lab Reports
Dope CBD - CBD Topical - Broad Spectrum Body Butter Lab Report