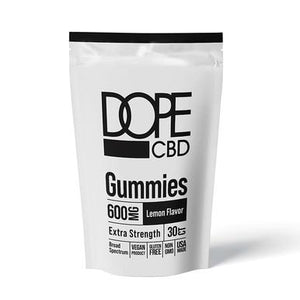 Looking for a way to enjoy high-quality CBD gummies without having to worry about running out quickly?
Dope's 600mg Lemon Flavor Gummies come in a 30-ct pack, giving you enough to last you over a month! Donning their classic, citrus flavoring, these gummies offer a delicious means of getting 20mg of CBD every day.
Have one while you take a walk around your neighborhood, exercise at home or simply sit at home and relax. The possibilities are endless when you have gummies as dope as these!
Broad Spectrum
20mg CBD per Gummy
30 Gummies per Package
Lab Reports
Dope CBD - CBD Edible - Extra Strength Lemon Gummies Lab Report