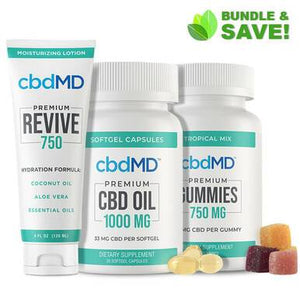 cbdMD Bundle
If you love saving money and have an affinity for cbdMD products, then you've come to the right place! Our cbdMD bundle is a fantastic opportunity to stock up on some of the most popular products from this impressive brand. 
What's Included?
Bundle and Save $57, Bundle MSRP valued at $189.99
1 x

cbdMD - CBD Softgels - CBD Oil Softgel Capsules

(30 Count - 1000mg) $69.99
1 x

cbdMD - CBD Topical - Revive Moisturizing Lotion

(4oz - 750mg) $59.99
1 x

cbdMD - CBD Edible - Broad Spectrum Gummies

(30 Count - 750mg) $59.99
The only thing more satisfying than saving money on your favorite products is enjoying them throughout the day! This bundle provides you with everything you need to bask in the soothing power of cannabinoids whether you're relaxing at home, or busy at the office.
There's nothing more satisfying than taking a break from your busy day to treat yourself to a delicious CBD gummy. CbdMD gummies are made with a powerful serving of broad-spectrum CBD that is CO2 extracted from hemp grown in the USA. 
Looking to provide your skin with some much-needed hydration? Reach for the Revive Moisturizing Lotion and get the relief you deserve. This product is made with a bounty of beneficial botanicals that help your skin look and feel its best!
Sometimes mornings are busier than expected and we can forget to take our morning serving of CBD. Fortunately, cbdMD Softgel Caps fit perfectly into your morning vitamin regimen. These capsules are easy to swallow, easy to remember, and provide you with 15mg of premium CBD.
Interested in saving money on premium CBD?
Pick up the cbdMD bundle at CBD.co!
Lab Reports
cbdMD R750mg Revive Lotion Lab Report
cbdMD 750mg Gummies Lab Report
cbdMD 1000mg Capsules Lab Report