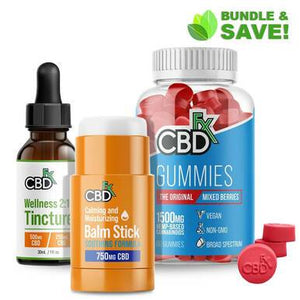 CBDfx Bundle
Looking to enjoy a premium CBD experience while saving on your favorite products? If so, you've come to the right place! Our CBDfx bundle is packed with powerful CBD products to help you live your best life! From delicious gummies to soothing topicals, this bundle has it all! Whether you're getting ready for the ultimate at-home relaxation session or you're on your way to an important meeting, these products will help you maintain the perfect level of chill.
What's Included?
1 x CBDfx - CBD Edible - Broad Spectrum Original Mixed Berries Gummies (60 Count Bottle - 1500mg)
1 x CBDfx - CBD Topical - Calming Balm Stick (2oz - 750mg)
1 x CBDfx - CBD Tincture - Wellness 2:1 Tincture (30mL - 500mg)
We put this bundle of impressive products together with the intention of helping you keep your chill all day long! CBDfx broad spectrum gummies are one of the hottest products on the market and a fantastic way to enjoy a midday helping of CBD. These gummies are not just a delicious treat. They're also packed with hearty helping of top-tier CBD.
Start your day right with a soothing serving of CBD oil with the CBDfx 2:1 wellness tincture. When you come home sore and tired, treat your muscles to something special with the CBDfx Calming Balm Stick!
CBDfx is one of the most trusted brands in the industry. They craft all of their products with premium Kentucky-grown hemp, utilize CO2 extraction techniques, and send all of their extracts to third-party labs where they undergo rigorous testing.
If you're looking for a great way to save money on premium CBD products, 
there's no better choice than our CBDfx Bundle!
Lab Reports
Gummies Lab Report
Balm Lab Report
Tincture Lab Report