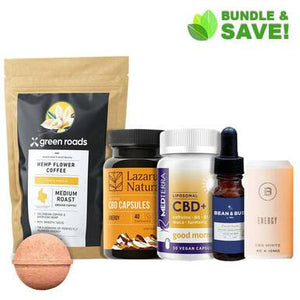 CBD Morning Bundle
They say breakfast is the most important meal of the day, but CBD should really be included in that statement! Mornings are often a mad dash to get ready and get out the door. This leads to a feeling of panic and anxiety that your morning meal just isn't going to help. Luckily, the CBD Morning Bundle is the perfect way to keep your chill and save a bundle of cash!
What's Included?
1 x Green Roads - Hemp Flower Coffee - French Vanilla (2.5oz) $14.99
1 x Medterra - CBD Capsules - Liposomal Good Morning Capsules (30 Count - 25mg) $49.99
1 x cbdMD - CBD Bath - Rise Bath Bomb (100mg) $9.99
1 x Lazarus Naturals - CBD Capsules - Isolate Energy Blend (40 Count - 1000mg) $49.99
1 x Lucent Botanicals - CBD Edible - Energy Mints (10mg) $29.99
1 x Bean & Bud - CBD Tincture - French Vanilla Coffee Booster (600mg) $44.99
There's no better way to start your day than with a hearty helping of CBD. Mornings can be a real pain. Blaring alarm clocks, rushed showers, and panicked exits are all things you can expect to deal with during an average morning. This can lead to a great deal of stress and put a real damper on your day.
Lucky for you, we've put together the perfect morning bundle to help you get your day started right. This bundle includes a variety of products that are designed specifically for those difficult mornings.
Looking to keep your chill and get caffeinated at the same time? Reach for the French Vanilla Hemp Flower Coffee from Medterra. Need to freshen your breath and give your body a boost? Treat yourself to a soothing, CBD infused energy mint from Lucent Botanicals.
If you want to use CBD to start your day right and save some cash at the same time, 
Then you're going to love the CBD Morning Bundle from CBD.co
Lab Reports