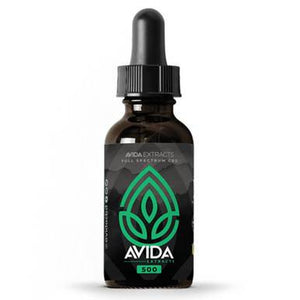 Avida Extracts Full Spectrum CBD oil is the latest iteration of our advanced Avida CORE Spectrum™ technology. We utilize a proprietary full spectrum blend, resulting in the highest naturally occurring Phyto-cannabinoids (7 Cannabinoids) ,Terpenes (9 Terpenes) with low Delta-9-THC and other beneficial plant compounds to support your good health. These compounds interact synergistically to create the "entourage effect", for the most therapeutic and most natural experience than that of any product on the market.
With every bottle of Avida Extracts Full Spectrum, you're guaranteed a 3rd party lab tested, Phyto-cannabinoid rich, gluten-free and BPA free product with full traceability from start to finish. Discover what thousands already have. A CBD experience like no other!
Contains <0.3% Delta-9 THC
Phyto-Cannabinoid & Terpene Rich
Strength Level 500mg
Active Cannabinoids: DELTA-9 THC, CBD, CBDA, CBDV, CBC, D8-THC, THCV
Active Terpenes: Alpha-Pinene, Beta Pinene, Caryophyllene, Eucalyptol, Guaiol, Limonene, Menthol, Pulegone, Sabinene.
Light Spearmint Flavor
Simple to use graduated dropper for accurate use.
3rd Party Lab Tested
Ingredients:
Avida Core Full Spectrum Cannabidiol Blend (HEMP Derived), Coconut Oil (MCT Oil), Natural Spearmint Extract.
Storage
Make sure to keep in a cool dry place, away from direct sunlight.
Suggested Use:
Start with a baseline of 1 CBD dropper full per day, broken down into 2 times a day/night for 7 consecutive days
Maintain baseline use for 7 consecutive days and note how your body feels during this time.
After the 7 consecutive days of your baseline use and feel you are not receiving the benefits of CBD, increase your use x2 for an additional 7 days
Once you have determined your effective use you can maintain that.
Lab Reports
500mg Lab Report