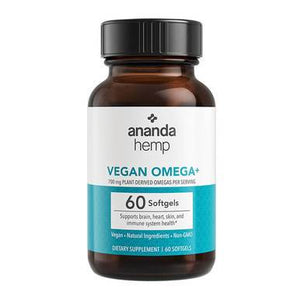 Vegan Hemp Omega+ is the gold standard in plant-based omega-3/6 supplements. A proprietary blend of cold-pressed hemp seed oil and microalgae oil can be used to supply your recommended daily intake of broad-spectrum vegan omegas in easy-to-swallow softgels.
250mg DHA + ALA + GLA per serving
60 softgels per bottle
Laboratory tested for purity and safety
100% Non-GMO
100% Vegan
*** Does not contain CBD
Ingredients: Ananda cold-pressed hemp seed oil (pressed from Ananda hemp seeds), DHA-rich algal oil, cassava root starch, glycerin, purified water.
Lab Reports